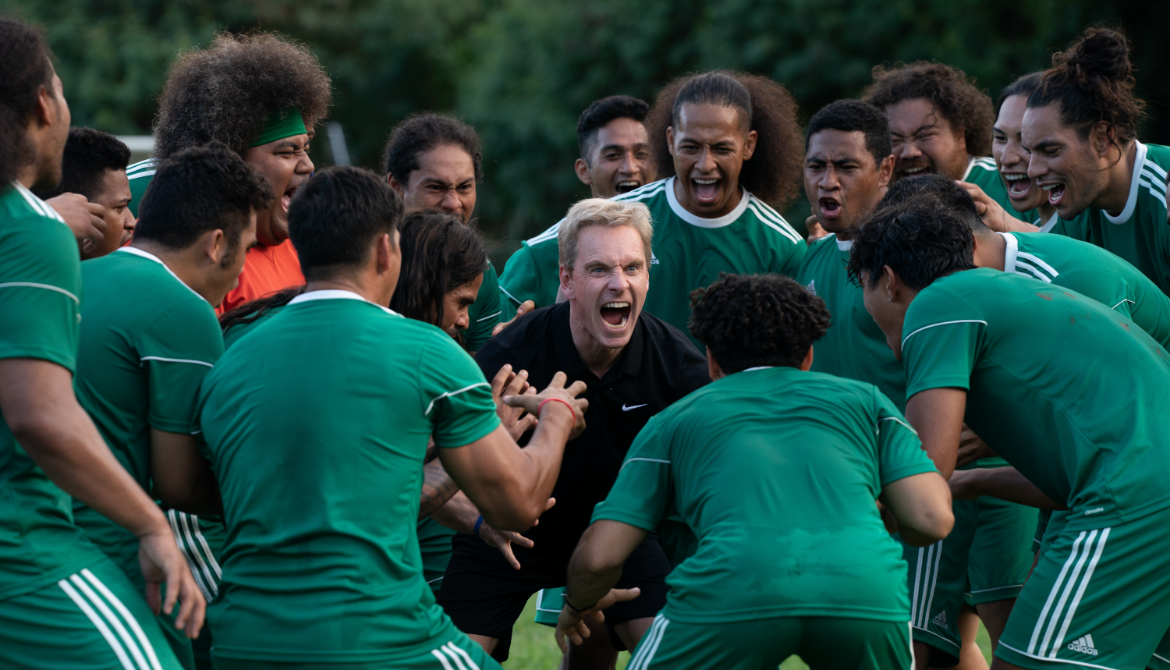 Searchlight Pictures Next Goal Wins, directed by Oscar® winner Taika Waititi, will open this year's festival which takes place from Friday 17 – Sunday 26 November 2023. Q&A with Oscar®-winning editor Thelma Schoonmaker will follow the screening of Raging Bull as part of Powell and Pressburger season, and Irish International talent is showcased with an array of screenings, special events and industry guests.
The festival's grand opening will feature the Northern Ireland Premiere of Oscar® winner Taika Waititi's Next Goal Wins, courtesy of Searchlight Pictures. This heartwarming underdog comedy starring Michael Fassbender, chronicles the journey of the American Samoa soccer team, infamous for their devastating 31–0 FIFA loss in 2001.
Closing the festival is the Northern Ireland premiere of one of the most acclaimed titles from the festival season: winner of both the Silver Lion at Venice Film Festival and Best Film at BFI London Film Festival, the eco-political thriller Evil Does Not Exist by Ryusuke Hamaguchi, the director of the Oscar® and BAFTA-winning Drive My Car, courtesy of Modern Films.
A number of advance preview screenings will feature, including the uniquely fantastical tale Poor Things starring Emma Stone and Mark Ruffalo, the ghostly heartbreak of All of Us Strangers led by two of Ireland's finest screen talents, Paul Mescal and Andrew Scott, Alexander Payne's sharp and heartwarming comedy The Holdovers and psychological thriller, Eileen, a dark and dangerous literary adaptation starring Anne Hathaway and Thomasin McKenzie.
The festival extends thanks to the distributors who have generously allowed these previews to be part of this year's programme: Searchlight Pictures, Universal Pictures, Picturehouse Entertainment, BFI, Modern Films, and New Wave Films.
Discover the visionary work of Michael Powell and Emeric Pressburger in Powell and Pressburger: Fantasy and Wonder season, featuring a series of their most celebrated titles including 28 Days Later and Wings of Desire, as well as Martin Scorsese's Raging Bull with special guest, Oscar®-winning editor, Thelma Schoonmaker. These events are part of Cinema Unbound: The Creative Worlds of Powell + Pressburger, a UK-wide film season supported by National Lottery and BFI Film Audience Network
For music lovers, Festival Club hosts live music including the beautifully melodic duo Tessio and alt folk band Polar Bolero. Screenings include Alison Elwood's documentary on Cyndi Lauper, Let The Canary Sing, 40th anniversary 4k restoration of the Talking Heads concert movie Stop Making Sense and Angelheaded Hipster, the first documentary to explore Marc Bolan and T. Rex.
This year's edition showcases the crossover between international productions and Irish talent, as well as Irish productions and international talent showcased by titles such as Next Goal Wins, Poor Things, All Of Us Strangers, and The Eternal Daughter to name a few. Irish language screenings include Puffin Rock agus Cairde Nua by Oscar®-nominated Kilkenny animation studio Cartoon Saloon and Derry studio Dog Ears, and Declan Recks' Tarrac featuring discussion with the film's writer Eugene O Brien.
Derry-native Margo Harkin's Stolen reveals how women who had the misfortune to fall pregnant "out of wedlock" were treated in an Ireland that was heavily influenced by the Catholic Church and is followed by discussion with director Margo Harkin and producer Martha O'Neill, and Ulster University's Dr. Victoria McCollum meets writer/directors Ross White and Tom Berkley from An Irish Goodbye to revisit the road to their Oscar and BAFTA success at one of many industry focused events.
Foyle Film Festival, Friday 17 – Sunday 26 November 2023. See full programme via foylefilmfestival.org
Foyle Film Festival is led by Nerve Centre.
Funded by: Department for Communities through Northern Ireland Screen and Derry City & Strabane District Council. Paul Hamlyn Foundation, Foras na Gaeilge and Film Hub NI.
Venue Partner: Brunswick Moviebowl.
Awards Sponsor: City of Derry Crystal.
Industry & Skills Partner: Screenskills HETV, BFI Film Academy, National Lottery, Ulster University, and Ulster Screen Academy.
Food Partner: Sandwich Co. and Mekong.