Are you 16–19? Studying moving image arts? Passionate about film? Want a career in the film industry? If so, the BFI Film Academy at Nerve Centre is for you!

The BFI Film Academy Short Courses helps to train and inspire the next generation of filmmakers, supporting young people aged 16 to 19 develop the commercial and cultural knowledge and skills to help make a career in film.
BFI Film Academy offers young people passionate about film a chance to learn together, working in production teams to create short films in an industry led environment. BFI Film Academy short courses are supported by the Department for Education in England, the National Lottery, Screen Scotland and Northern Ireland Screen.
Masterclasses with industry professionals during the course offer insight into careers and the working life of the screen industries.
The course is open to young people from anywhere in Northern Ireland with BFI Film Academies based in Derry~Londonderry, Belfast and Armagh. No academic education or degree is necessary and the Nerve Centre welcomes applications from underrepresented groups and intersectionality across ethnicity, gender, sexuality, age, disability, religion, and socio-economic circumstances. Candidates must be available for all dates of the programme, between 22 September 2022 and 9 December 2022.

Applications are now open and the deadline to submit your application by is Monday 12 September at 5pm.

Run Times:
Nerve Centre, Derry-Londonderry
Online via Zoom: Thursdays | 4.30pm-8.30pm
In venue (occasional): Saturdays | 10.30am-4.30pm

Nerve Creative Learning Centre, Odyssey Pavilion, Belfast
Online & In venue: Thursdays | 4:30pm-8.30pm
Occasional Saturday sessions

AmmA Centre, Armagh
Online via Zoom: Thursdays | 5pm–8.30pm
In venue (occasional): Thursdays | 5pm–8.30pm and Saturdays | 10am–4pm

Film Production will take place during October Halloween break

How to Apply
BFI Film Academy Alumni go on to work and train in the screen industries with previous participants working in the fields of directing and producing, VFX, animation and sound design. Alumni join the growing BFI Film Academy network supporting young people up to the age of 25 with access to talent labs, Industry masterclasses and networking events.

To apply:
be aged 16 to 19 years old on the first day of the course
be a UK resident
have a passion or talent for filmmaking and an ambition to work in the film industry
be able to commit to the duration of the course
not currently be at university or enrolled at university when the course starts
not have previously enrolled on a BFI Film Academy course
Derry~Londonderry | Application Form
Any evidence you have of your passion or talent will really help your application.

The course is an accredited NCFE level 2 Preparing to Work in the Film Industry qualification. This qualification has been driven by the needs of industry and education partners.
Previous masterclass speakers include cinematographer Seamus McGarvey (Avengers Assemble, Atonement) directors Danny Boyle (Trainspotting, Slumdog Millionaire), Andrea Arnold (American Honey) Producers), Andrew Eaton (Rush, 24 Hour Party People), Ivanna MacKinnion (Slumdog Millionaire), Chris Martin (Good Vibrations) and Writers Glen Leyburn, Lisa Barros D'Sa (Good Vibrations).
Belfast | Application Form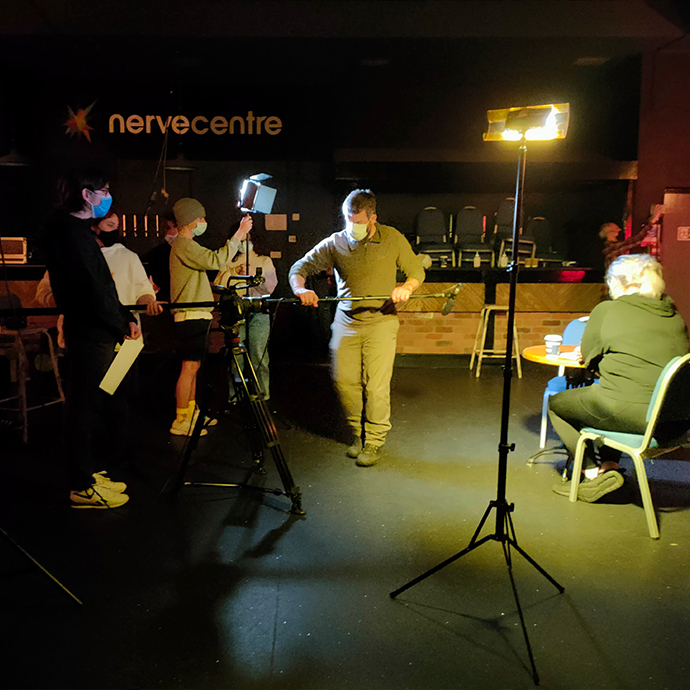 'I gained experience as a Video Assist with Game of Thrones. I learnt vital skills for film making through the BFI and if it wasn't for completing the programme at Nerve Centre, I just wouldn't have had the confidence or skills necessary for such a demanding job.'
- Eoghan, BFI Film Academy Graduate
'One student in particular has advanced immensely from being part of the BFI experience. As well as moving from a B to an A grade, she has been given amazing opportunities that a school based environment could not afford her. She took part in the BFI documentary residential week in London (where she has got herself loads of contacts and a possibility of an internship next year). The BFI academy has been amazing for her development.'
- Moving Image Arts Teacher,​ St Mary's College
Armagh | Application Form